The journey to Everything Real begins when you say "Yes!" and the SYNERGY starts. Then, One Pure Soul inspires you to find a better way. You are guided to recognize and appreciate This Special Time when your perspective deepens. You emerge like a Butterfly seeing the world through different eyes, and are shown an Invocation that releases the inherent power of the elements. Through the time-honored tradition of Kirtan Transcendent— sacred song—you absorb and channel this power. You see that humankind has been traveling through a drought on many levels, so you ask the Universe to Let It Rain. You are answered by a Cosmic gift—a Heartsmile—a joyous magical communion, reawakening you to the sacred experiences that have been passed down from mother to child, because indeed The Mothers Knew. The Great Mother reveals Herself as the Divine Weaver, and Ocracoke Spider shares a mystery of adventure and homecoming, encouraging you to Drive Your Karma, Curb Your Dogma. Then, a Beautiful Day dawns and you move towards the world you envision. Inner Peace blooms and Da Pacem / Fruits of the Selfless Heart are yours when you give yourself to your calling, finding that She Who Is Oneness is with you and in you. You emerge from this timeless state to find the world right where you left it, filled with both peril and beauty, and you muse, I Wonder… Your journey ends where it begins, saying "Yes" to the truth of being fully aware and , rejoicing in Everything Real.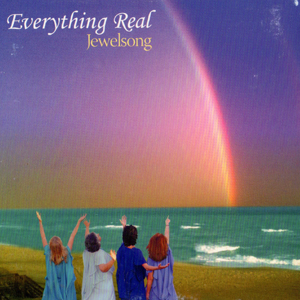 Jewelsong is an ensemble of singer-songwriters who create music that inspires and delights. Sofianna Sue-Anne Solem, Betsy Bickel, Marilyn Grubbs, and Farrunnissa Rosa have been singing together since 2002 exploring rich vocal harmonies and original acoustic instrumentation. They compose and/or arrange most of their songs — an eclectic blend of uplifting music inspired by different spiritual traditions, and by the beauty of Nature and the sacred trust of caring for the Earth. For more, contact them at [email protected].
Produced by Betsy Bickel, Farrunnissa Lila Rosa, Marilyn Grubbs, Sofianna Sue-Anne Solem, and Jerry Brown.
Recorded, mixed, and mastered at The Rubber Room in Chapel Hill, NC.
CD graphic design by FJ Ventre at Tadpole Designs.
Photos by Susan Narula and Acharan Narula; cover photo by Betsy Bickel.
Everything Real © 2012 Jewelsong; all rights reserved.
We want to thank our wonderful musician friends who contributed so much to this album:
David McKnight, violin, a former North Carolina newspaper journalist, has played violin and viola since childhood and delights in contributing string parts for singer-songwriters throughout the region. Having composed a number of folk instrumentals and songs, he enjoys playing in the Emery & McKnight Duo of Raleigh and the Cleaver Smith Swenson & McKnight Band of Durham. He contributed much beauty to several songs on this CD. (www.itsthemusic.com)
Jill Soha, cello, was classically trained but now focuses on improvisation and the adaptation of non-classical music for cello. A resident of Durham, she enjoys playing bluegrass, Nordic dance tunes and other folk genres in addition to classical chamber music. Her versatile style is featured on three songs.
Ananda-Eric Pritchard, violin, enjoys an active career as a classical performer with the Ciompi Quartet of Duke University and as a supporting musician for the Dances of Universal Peace. His soaring improvisations on "The Mothers Knew" are truly inspired.
Laurie Lindgren, flute, is also a massage therapist, an energy worker, an ordained Interfaith minister, and a certified Dance leader. She loves to play music for the Dances of Universal Peace and sing with the group Pomegranate Rose. Laurie was an original member of Jewelsong when we, like Venus, arose from the sea in 2002. On "Butterfly," she captures that lilting migratory flight with her music. (www.threestreamswellness.com)
Stephen Smith, piano and organ, began composing music to Hazrat Inayat Khan's poetry in the late seventies. He has recorded two albums of music with Dilwara Fletcher based upon Inayat Khan's poetry, Promise of the Dawn (1980) and Every Sound I Hear (2008). His rockin' keyboards on "Ocracoke Spider" evoke dancing spiders.
(www.cdbaby.com/cd/ssdf)
1. SYNERGY 2:37
2. One Pure Soul 3:36
3. This Special Time 3:54
4. Butterfly 3:49
5. Invocation 5:34
6. Kirtan Transcendent 5:15
7. Let It Rain 5:34
8. Heartsmile 5:37
9. The Mothers Knew 3:46
10. Ocracoke Spider 8:49
11. Drive Your Karma, Curb Your Dogma 4:22
12. Beautiful Day 4:21
13. Da Pacem / Fruits of the Selfless Heart 2:57
14. She Who is Oneness 4:55
15. I Wonder 5:48
16. Fully Blessed 7:03
Special Sale for Mothers Day, Fathers Day, Graduations, Birthdays!
Only $10.00 per CD
plus $3.00 shipping

Offer ends Saturday July 1st, so order now!