"…the Roches meet Sweet Honey in the Rock!"
— Dr. Neil Douglas-Klotz, author of Prayers of the Cosmos
Our first recording! This CD is dedicated to the Beauty that uplifts the human heart. May these songs be inspiring in some small way to all who hear them.
We express our gratitude to all the spiritual traditions of the world that for centuries have guided followers toward the Light. This CD honors these many paths to the same mountaintop.
We acknowledge all those who have inspired and guided us — our parents, grandparents, and families, the teachers who opened the doors of music for us, the wise ones who pointed us toward the Truth and helped us find our way, Mark Malachi who believed in us, encouraged us, and adored us, the friends old and new who loved Jewelsong's sound and asked us for a CD, Mary Lycan, Jerry Brown, and especially Saraswati Mimi O'Neill, voice coach and transformational midwife extraordinaire.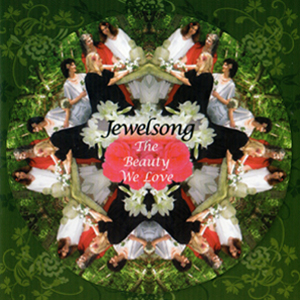 Produced by Betsy Bickel, Farrunnissa Rosa, Marilyn Grubbs, Sofianna Sue-Anne Solem, Jerry Brown, and Saraswati Mimi O'Neill.
Recorded, mixed, and mastered at The Rubber Room in Chapel Hill NC.
Additional mixing by Robert Sledge.
Graphic design by FJ Ventre.
Cover art created by Kathy Kochevar.
Voice coach: Saraswati Mimi O'Neill.
The Beauty We Love © 2006 Jewelsong; all rights reserved.
1.Swimming to the Other Side
2.Walking Through
3.Blessing
4.100's of Ways
5.The Heart Sutra
6.Heart's Desire
7.Kirtan
8.Sacred Clock
9.Fruits of the Selfless Heart
10.Stand for Peace
11.Heart of the Mother
12.He Kehau
13.Remember the Way
Special Sale for Mothers Day, Fathers Day, Graduations, Birthdays!
Only $10.00 per CD
plus $3.00 shipping

Offer ends Saturday July 1st, so order now!